Gigabyte G482-Z52 (rev. 100) HPC Server - 4U DP 8 x Gen4 GPU Server 6NG482Z52MR-00
HPC Server - 4U DP 8 x Gen4 GPU Server 6NG482Z52MR-00
Gigabyte G482-Z52 (rev. 100) HPC Server - 4U DP 8 x Gen4 GPU Server 6NG482Z52MR-00
Up to 8 x PCIe Gen4 GPGPU cards
Dual AMD EPYC™ 7002 series processor family
8-Channel RDIMM/LRDIMM DDR4 per processor, 32 x DIMMs
2 x 1Gb/s BASE-T LAN ports (Intel® I350-AM2)
1 x dedicated management port
8 x SATA 2.5" hot-swappable HDD/SSD bays
8 x FHFL Gen4 expansion slots for GPU cards
1 x low profile PCIe Gen4 x16 expansion slot
3 x 80 PLUS Platinum 2200W redundant PSU
The next generation of AMD EPYC has arrived, providing incredible compute, IO and bandwidth capability – designed to meet the huge demand for more compute in big data analytics, HPC and cloud computing.
Built on 7nm advanced process technology, allowing for denser compute capabilities with lower power consumption
Up to 64 core per CPU, built using Zen 2 high performance cores and AMD's innovative chiplet architecture
Supporting PCIe® 4.0 with a bandwidth of up to 64GB/s, twice of PCIe 3.0
Embedded security protection to help defend your CPU, applications, and data
G482-Z52 Product Overview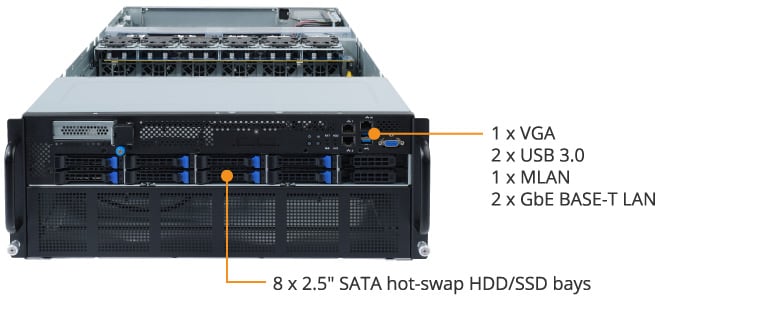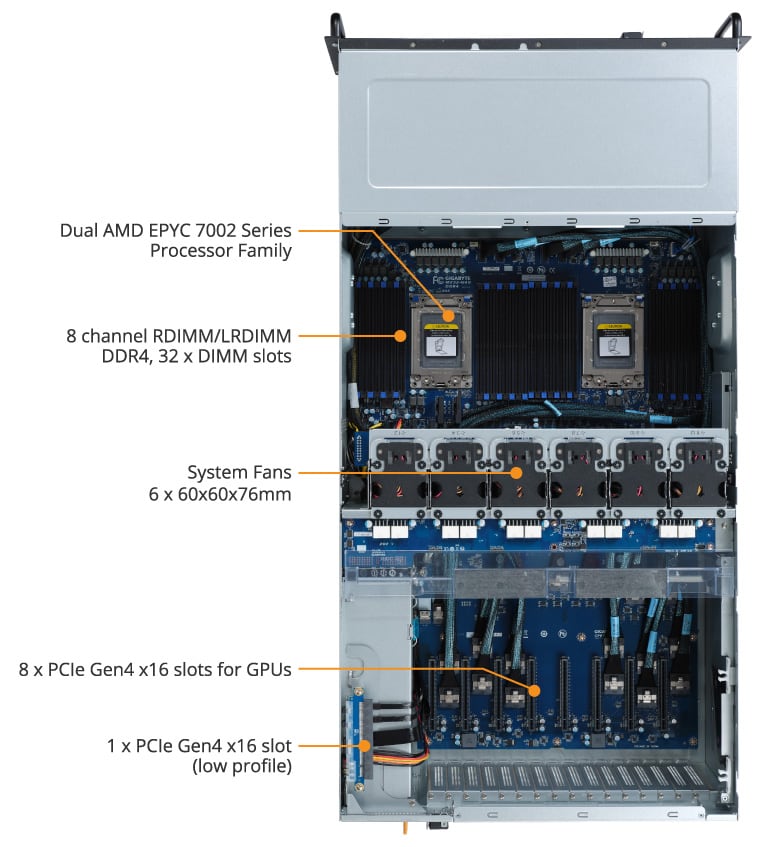 G482-Z52 System Block Diagram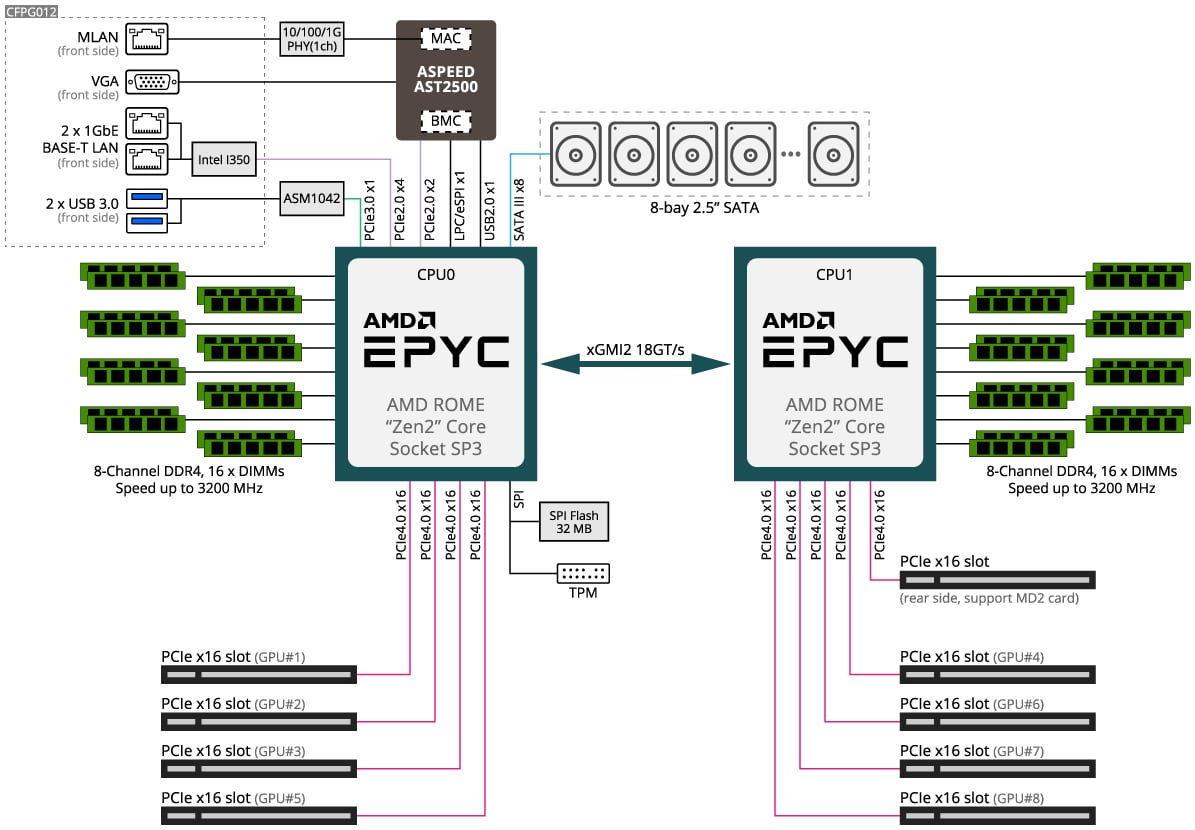 High Density HPC
Supports 8 x PCIe® 4.0 Computing Cards
The G482-Z52 is one of the world's first PCIe® 4.0 GPU server systems to be released to the market, featuring support for up to eight dual-width PCIe 4.0 GPU cards (with each GPU connected directly to the processor via PCIe root). It is ideal to integrate an "AMD on AMD" solution using 2nd Gen AMD EPYC™ processors together with the AMD Radeon Instinct™ MI50, the world's first 7nm, PCIe 4.0 data center GPU, or with other Gen 3.0 or Gen 4.0 GPU cards for applications such as deep learning, cloud gaming or video streaming.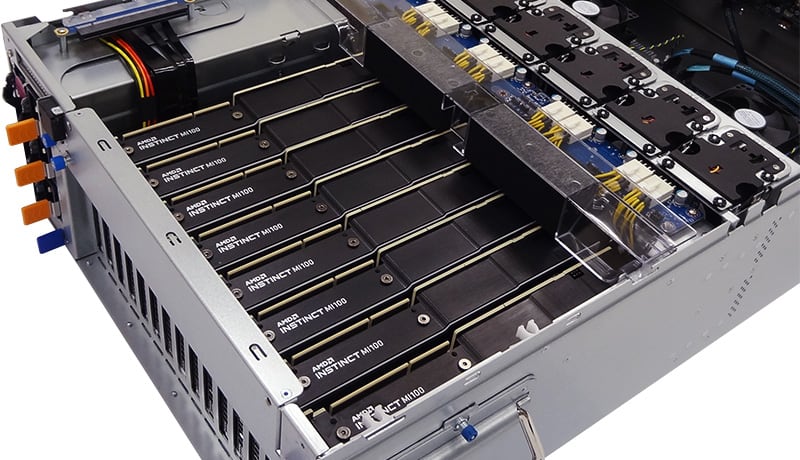 PCIe® 4.0 Ready
AMD EPYC Rome is ready to support PCIe® 4.0 with a bandwidth of 64GB/s, twice that of PCIe 3.0. This doubles the bandwidth available from the CPU to peripheral devices such as graphics cards, storage devices and high speed network cards. GIGABYTE's AMD EPYC 7002 Series server platforms are ready to be used with a new generation of PCIe 4.0 devices such as AMD's Radeon MI50 GPGPU.
* The PCIe 4.0 standard supports a 16 GT/s bit rate, (roughly 2GB/s per single lane) as opposed to 8GT/s bit rate for PCIe 3.0 (1GB/s).
Certified Ready with Software Partners

ilość slotów pamięci
32 DIMM Memory
rozmiar kieszeni hdd/ssd
2.5 (SFF)
Standard pamięci
DDR4-3200
Slot PCIx16
10 x16 (in x16 slot)
ilość portów 10/25/50/100/200GB
optional
ceryfikaty zasilaczy
Platinum Level
redundancja zasilaczy
tak
Znaleźliśmy inne produkty, które mogą Cię zainteresować!